Made for camping and surfing.
UNDEFEATED has partnered with Galpin Auto Sports, the infamous car custom garage for Pimp My Ride seasons 5-6, to deliver two unique takes on the Land Rover Defender 90 and 110 models.
The "Jaguar Blue" Land Rover Defender 110 is built for camping trips and features a range of amenities and features. A Nomad Kitchen Co. setup slides out from the trunk to reveal a prep table, sink, camping stove, fridge, drawers, and storage compartments. Up top, the roof is equipped with a custom hitch-mounted lockbox, a full-length roof rack, 270-degree awning, and a deployable tent.
Custom "Undefeated 110" and "Galpin Motors" badges are displayed on the rear and ivory "Steelie" Forgiato rims with floating Undefeated logo center caps are fitted with military-style Goodyear tires. Interiors feature a blackout package, parchments leather upholstery with houndstooth accents, and Undefeated logos imprinted on the head cushions. Performance-wise, the 3.0 Turbocharged hybrid engine generates 395 Horsepower with a towing capacity of 8201 pounds.
The "Jaguar Green" Undefeated x Gapin Defender 90 P400 First Edition is built with surfing in mind and incorporates a road shower, retractable awning, hitch-mounted lockbox, and a surfboard rack. Inside, interiors are lined in leather with beach-towel-inspired inserts and feature custom wood compartments and a biometric safe. Custom "Steelie" rims, blackout tints, collaboration badges, and engine specs are consistent with the aforementioned Defender 110.
The special-edition Land Rovers were first revealed at the 2021 LA Auto Show, and the initial response has been deservingly positive. Boasting both distinct retro style and utility, the UNDEFEATED x GALPIN series is sure to be a future classic. Release information for the two special-edition vehicles has yet to be revealed. Stay tuned for more updates.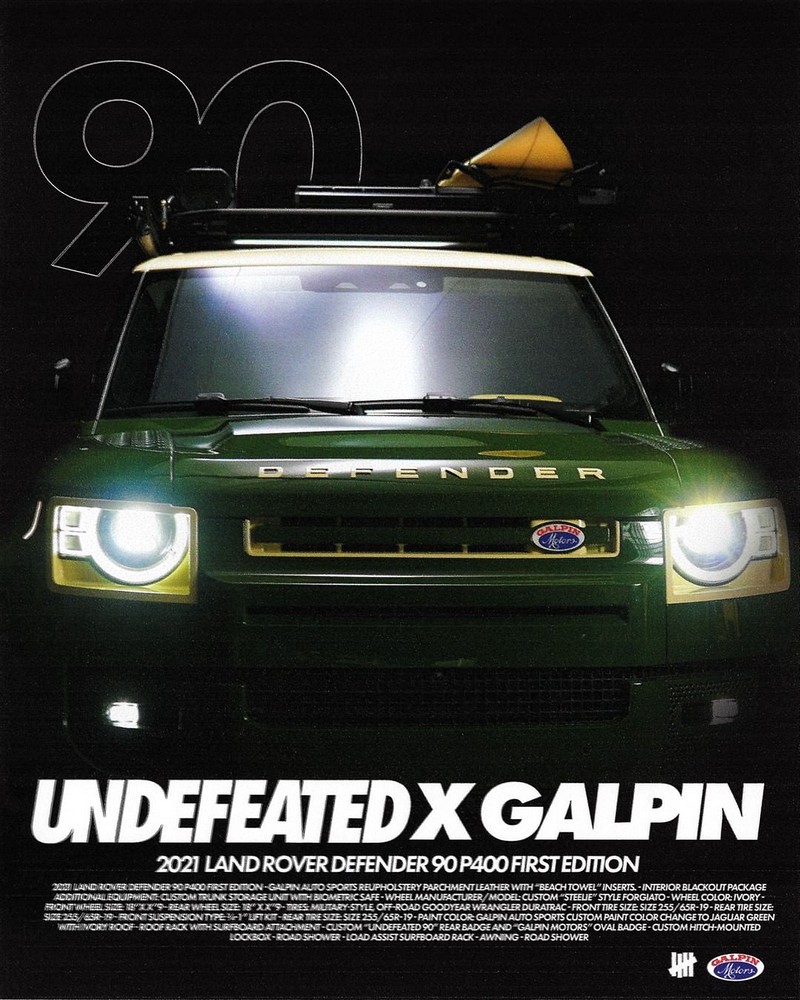 Article Credit: Aaron Chow
Full Articles: https://blog.dupontregistry.com/the-lifestyle/undefeated-x-galpin-motors-unveils-two-new-adventerous-land-rover-defender-builds/