The Land Rover Defender was inarguably the most exciting car to hit our roads last year, but the British marque hasn't quite started to relax just yet.
Quite the contrary, because it's just casually dropped the most powerful production Defender ever made. This will be the first major upgrade since its reintroduction in 2019, and it's fair to say that the power-hungry won't be disappointed, not when there's a potent new V8 under its hood.
Available on both the three-door 90 and the five-door 110 versions, the 5.0-litre supercharged V8 — mated to an eight-speed automatic transmission — is capable of an immense 518hp and 625Nm of torque, making this 4×4 hooligan not only the most powerful, but also the fastest production iteration ever. Zero-to-100kph figures are touted at only 4.9 seconds, with a top speed of 240kph.
Don't mistake the regular turbocharged inline-six (mild hybrid too, mind you) to not be good enough though, because it's plenty powerful enough for anything you might've already fantasized putting the SUV through, including steep muddy ascends in the wild outback. The Defender V8 will, however, get an additional drive mode in its Terrain Response system that focuses on the tarmac and loose surfaces like say, gravel, so you can get the most out of its formidable powertrain literally anywhere you go. Expect beefier sway bars too, as well as a yaw controller for the electronic rear differential and larger front brakes to cope with this newfound power.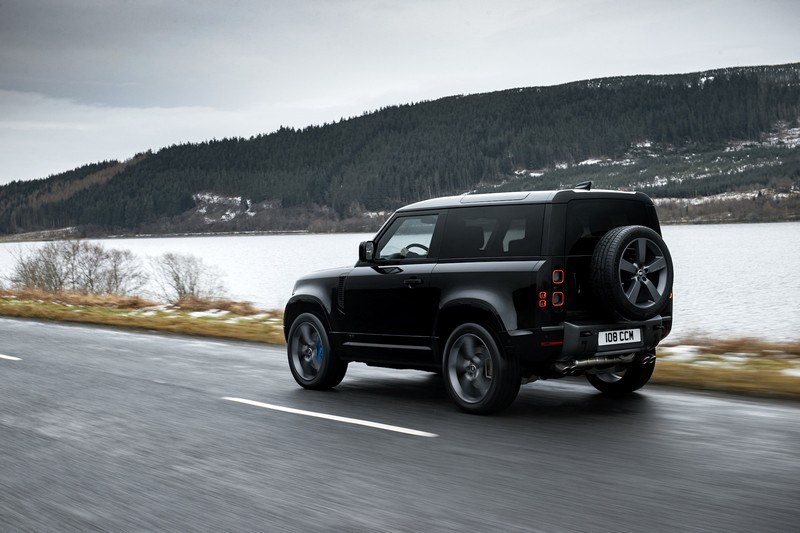 Besides a new powertrain, Land Rover is also offering a host of trim levels that you'll be able to upgrade your dream Defender with. The new Defender V8 Carpathian Edition is the model's flagship and will feature Carpathian Gray bodywork with Land Rover's semi-matte Satin Protective Film, as well as a black roof and tailgate. It'll also come with extensive "V8 Carpathian Edition" badging and black trim pieces for maximum presence both inside and out.
There'll also be an XS Edition that replaces the wildly popular First Edition, which offers exterior and interior treatments on both the 90 and 110. This includes bespoke body-coloured lower claddings and lower wheel arches, which draw the eye to distinctive 20-inch, contrast diamond-turned Satin Grey alloy wheels. The four exclusive paint colours here — Silicon Silver, Hakuba Silver, Gondwana Stone, and Santorini Black — perfectly encapsulate the brooding power of the iconic SUV, and set the tone for its luxurious grained leather interiors.
Other highlights to look forward to in 2022 Defenders include infotainment upgrades. The Pivi Pro system can now be upsized to 11.4 inches — up from the regular 10 inches — and includes a wireless charging tray and signal booster. If the handsome exterior of the Defender somehow fails to impress you, there are also three new design packs that enable personalization such as chrome finishes and badging.
Article Credit: Shatricia Nair
Full Article: https://www.lifestyleasia.com/sg/gear/motoring/defender-v8-2021/