Price: £79,995 | Year: 2012 | Engine: 4,200 cc supercharged V8, 390 bhp
Take an innocent late model classic Land Rover Defender. Add everything you can think of. Then add more, much more. When you've finished, add Recaro seats custom-covered in alligator leather. And then a gear lever that first saw service in an Apache helicopter. That begins to tell the story of this most extraordinary of Defenders, ready to tackle any terrain you care to throw at it, with enough power to drop most sports cars at the traffic lights.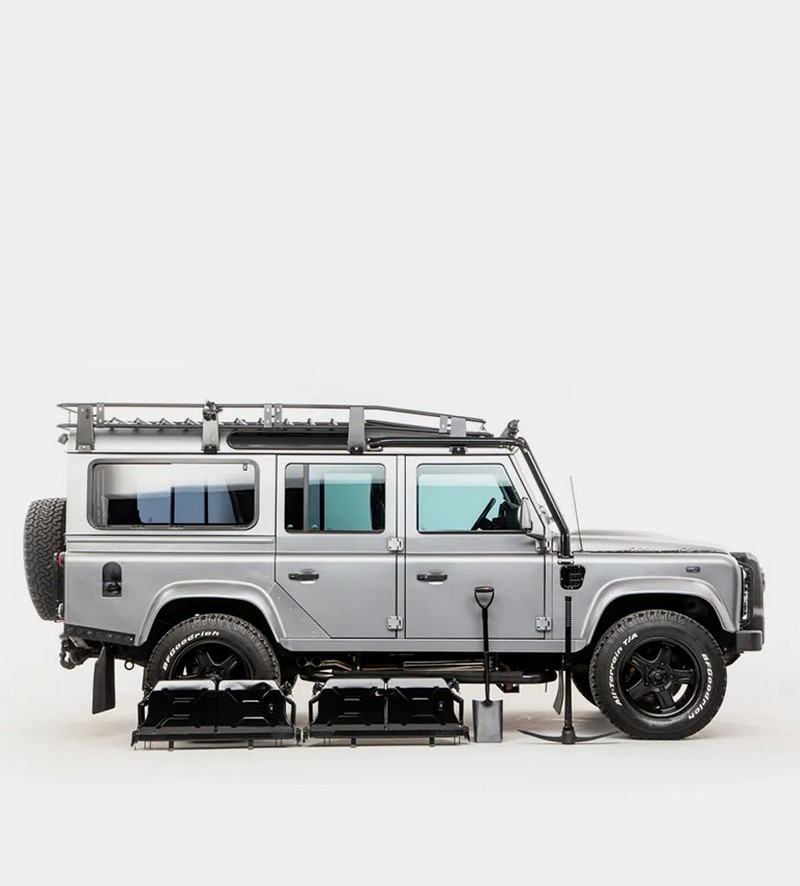 The exterior of the Land Rover Defender 110 Twisted bulges with purpose, courtesy of the Land Rover conversion specialists at Twisted, whose work began the transformation from rugged utility to radical brute. Twisted are the go-to experts when it comes to putting extra delight into your classic Defender. This most extreme of examples is finished in industrial Corris Grey metallic with all detailing in black, including the substantial front bull bar and a full set of tools, mounted on the full length roof rack. Off-road tyres are by B F Goodrich. The substantial bonnet bulge is a just a hint of the power that lies beneath.
Open the door to a world of five star off-road comfort. This interior, though, is no sybaritic Range Rover lookalike. It's more ludicrous than that. Take the freshly installed heated Recaro Sportster CS seats. They've been custom covered in real alligator leather, which may not be for the environmentally fastidious, but then this is a Defender with bespoke fittings at the rear for shooting paraphernalia. Detailing extends to a unique gear lever, once a joystick in an Apache attack helicopter, which also supplied the red toggle switches for the extensive exterior lighting and interior LED illuminations. Require champagne on your shooting expeditions? That'll be what the refrigerator in the center console is for.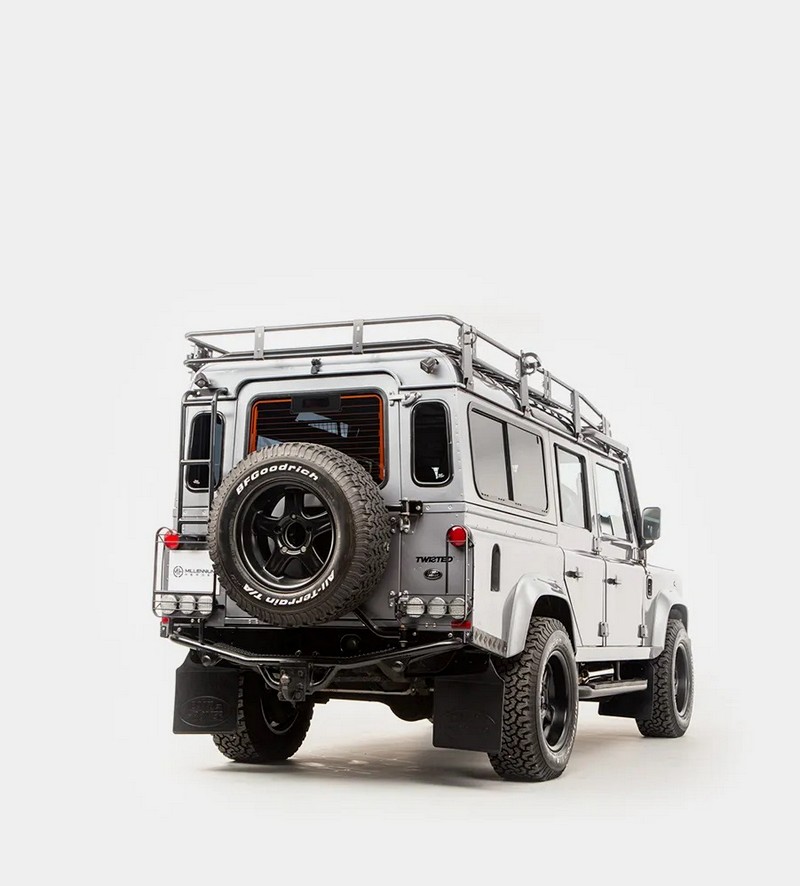 You may need to take a step back when you open the bonnet. Gone is the trusty turbo diesel. Shoehorned in by the Land Rover obsessives at RR London is a supercharged four litre V8, from a top-of -the-tree Range Rover. The gearbox is a modified six speed unit, the clutch is – naturally – high performance, and the flywheel is lightweight. All told, this huge brick of a machine will reach 60 mph in under eight seconds and can reputedly reach frankly terrifying speeds of more than 130 mph, which may startle the Lamborghini drivers on your local autobahn.
Beyond one owner's obsession, there is no reason whatsoever for this radical Defender to exist. Start it up, listen to the eardrum-troubling thunder of that V8 and be thankful that it does. Invoiced conversion costs run to £150,000, so the asking price is a veritable bargain. What would you do with it? Once it's in your drive, just about anything and everything.
Article Credit: Opumo
Full Article: https://www.opumo.com/magazine/land-rover-defender-110-twisted/