It was a shock when Land Rover pulled the plug on its Defender model in 2016, an automotive classic if ever there was one. LR said it had a new version in the works; left unsaid was that the old one couldn't meet U.S. (and other) safety and emissions standards.
This left Land Rover with a headache familiar to Jeep, Porsche and other makers of four-wheeled icons: How to attract new buyers without leaving the faithful weeping in disappointment.
No easy task—the old one had become an enduring symbol of British pluck. Nothing said "safari" or "adventure" or even "carry on!" so distinctly as the squared-off, underpowered, high-slung and rough-riding Land Rover.
Born on a farm in 1947, it was an homage to the US Army Jeep, which had developed a devout following in Europe during the Big War.
But it was a horrid road vehicle. My early-'60s Series IIA Land Rover 88 might have lost a race with a lawn tractor and its heater could not begin to cope with winter in New England.
The spare tire on the hood was groovy until it came time to check the oil.
I bought it, used and abused, in 1972 for $400 and sold it in 1974 for $400.
One day I found a Harrod's fruitcake, still sealed in its tin, under the seats. It was delicious. I wish I still had it. The Landie, not the fruitcake.
Over the decades, especially after '83, when it became the Defender, the Land Rover slowly evolved and spun off other vehicles, including the Range Rover, the first of today's luxury 4x4s. Eventually a strange thing happened: rattling around in old Land Rovers became status-y, at least for people who also had something more comfortable in the garage. The cult was taking shape.
Just like the old Landies, this new Defender comes in two sizes: the two-door 90 and four-door 110. Prices now start just above $51,000. The base engine is a 296-horsepower turbo Four; we're driving the optional 395-horsepower Six with an electric boost from its 48-volt system. An 8-speed automatic transmission with a two-speed transfer case is standard.
The bigger engine (which is borrowed from Jaguar) makes this heavy, rugged vehicle as responsive as any modern crossover SUV that isn't a sportscar wanna-be. All this plus the all-independent suspension, another departure from the old norms, finally makes the Defender excellent on the road as well as off. The only thing that takes getting used to is the touchy braking.
Our sample Defender lists for $75,440—that's $62,250 for the base 110 SE plus the extra dollars necessary for the Cold Climate Pack, the Off-Road Pack, the Comfort & Convenience Pack and a long list of other goodies that range from a panoramic sunroof to special paint, a three-zone climate control, lovely seats and more.
Every Defender comes with full-time all-wheel drive, a low gear range, hill-descent control and Land Rover's electronic terrain-response system, which has often gotten me into, and then out of, off-road trouble. It also has nearly a foot of ground clearance and can wade through 35 inches of water. While most Defenders will roam Suburbia, their owners may legitimately fantasize about fleeing into the mountains. Or the desert. Or the swamps. (Land Rover offers plenty of accessories for this.)
The old Defender may be chic, but the new one is comfortable. The tall, boxy cabin is roomy and done in a style and with materials that fall midway between yacht and toolbox. There's heated this and cooled that and a full complement of digital hard- and software, too (with over-the-Internet updates). The new Defender lacks the charm of its ancestor, but charm doesn't keep a modern automaker solvent. This new model, which is as competent on pavement as it is off, should be another home run.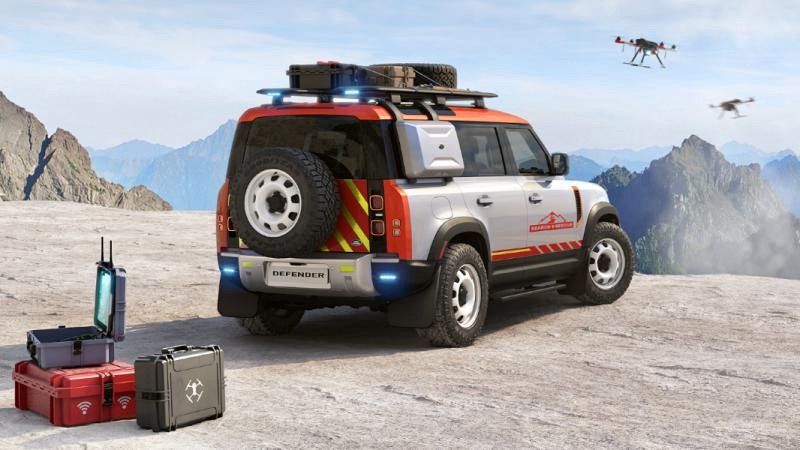 This just in from Land Rover, too: "Inspired by the endless acts of service . . . from extraordinary citizens this past year, Land Rover today announced the launch of the 'Defender Above & Beyond Service Awards' to celebrate US-based charitable organizations that are making a positive impact in their local community. To honor the 70-year history of the brand, Land Rover will award a specially outfitted Defender [like the one above] to seven organizations to help further their charitable efforts." Got any ideas?
Until April 7, Land Rover is accepting online submissions from search & rescue and coastal and marine conservation groups. In May and June, submissions will expand to five additional categories: animal welfare, first responders, environmental, urban-improvement and fire-fighting services.
Article Credit: Silvio Calabi
Full Article: https://www.penbaypilot.com/article/land-rover-defender-110-se/144861