A finished product known as the Land Rover Series first hit the market in 1948.
Few vehicles are as iconic and long-lasting as the classic Land Rover Defender. Back in 1947, Britain needed a utilitarian off-road trailblazer to compete with the Jeep, so Maurice Wilks set out to design a new car based on the underpinnings of the Jeep, with a finished product known as the Land Rover Series coming out in 1948.
Tough, simple, and dependable, with a can-do spirit. These were honestly the only features a Series vehicle had. They had no creature comforts, and instead, just complete versatility for anyone who needed to drive off the beaten track. Oh, and a choice of either a long or short wheelbase model.
This ethos carried through the entirety of the Series massive lifespan up to 1983. At this point, it was replaced with the Ninety and One Ten, which is pretty much the Defender we all know and love.
The Ninety and One Ten names denote the wheelbase size in inches, and these vehicles, whilst being a total upgrade over the antiquated series models, were still designed for simplicity and ruggedness through and through, and by 1990, Land Rover knew they needed to give their off-road titan a proper name, Defender.
The Early Years Of The Land Rover Defender
While initially sharing the same 2.25 liter engines from the old Series model, the Defender was drastically different in other ways, such as featuring coil springs all round as opposed to leaf springs, giving a much better ride and improved axle articulation, a proper permanent 4 wheel-drive system for better off-roading ability, better visibility and a semi up-to-date interior for the time.
The engines also received a bit of a shakeup after a few years, with the 2.25 engines upgraded to a 2.5-liter block using five bearings instead of 3 to handle the extra power. Still, this is not a great bragging point, with the 2.5 n/a diesel model producing 68 hp and the petrol 85bhp.
The introduction of a turbodiesel 2.5 model with extra torque and power (85hp) made the other option, the V8, less relevant. Finally, Land Rover had an engine producing both acceptable performance and fuel economy with the turbodiesel torque.
The 1990s Were Kind To The Defender
While advancements were made through the '80's, it was at the time of the name change to Defender that things really started to take off technologically. The 2.5 turbodiesel engine was replaced with the 200Tdi 2.5 diesel unit robbed from the new Discovery, it produced 107Bhp and really did render the V8 model irrelevant.
Power then went up to 111bhp with the introduction of the 300Tdi replacement in 1994, a newer, smoother design which came at the same time as introductions such as A/C, alloy wheels, and metallic paint. This was an attempt to take the Defender upmarket whilst still harking back to those original utilitarian roots.
In 1998 Land Rover replaced the 300Tdi unit with a modern emission-friendly five-cylinder Td5 unit producing 122bhp. The Td5 engine was far more reliant on engine management technology and initially raised concerns. These vehicles needed to be faultlessly reliable in even the harshest conditions as they were sometimes used as military vehicles.
Luckily these concerns turned out to be unfounded as the Td5 was very dependable and possibly the best Defender engine out there. Still it is sometimes marked as uninteresting and noisy by real Land Rover purists.
The Turn Of The Millennium Saw Some Advancements Too
In 2002 emissions controls were tightened up even further on the Td5 engine, and a top specification known as the "county package" was available on all new Defender models. This came with a center console, heated front screen, ABS, traction control, and even part-leather seats all now easily available. Even electric windows were an option.
In 2007 LR axed the Td5 engine (the last LR engine made at their Solihull plant) and replaced it with the DuraTorq 2.4TD engine from a Transit van. Power stayed at 122Bhp while gaining 59nm torque (now 359nm).
A revised dash was provided from a Discovery 3 and Transit combination, along with a new 6-speed manual gearbox. The iconic inward-facing seats from Defenders of old were replaced with forward-facing seats, halving the rear-seat capacity.
Where Are We Now With The Land Rover Defender?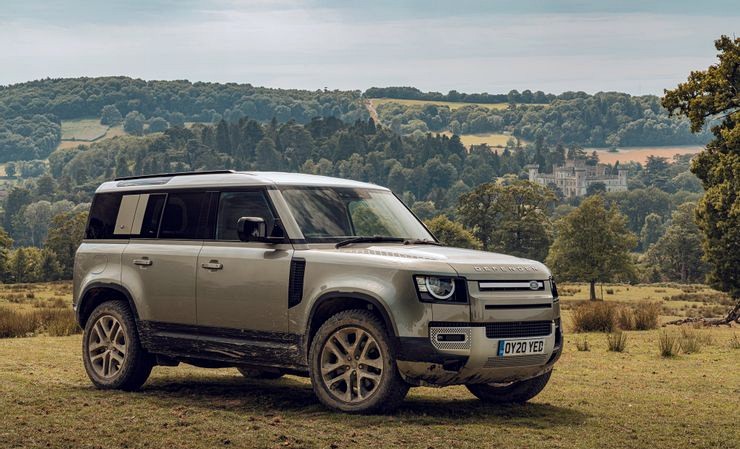 In 2011, Land Rover admitted the Defender was going to be replaced as in four years, commercial vehicles would have to have airbags and the Defender needed a complete redesign to deploy them safely, that said, they went on for a few more years with the 2.4 engine being replaced by a very similar 2.2 unit that was better tuned to meet the incoming Euro V emissions standard.
The very last Defender rolled off the Solihull production line in 2016, with the desirable replacement L663 Defender being introduced in September 2019. This vehicle may be a Defender by name. Still, it shares absolutely nothing with the original Defender, with a host of brand-new engines, a vastly different body, and an advanced eight-speed automatic gearbox.
33 years. That's a pretty good run for a car that didn't really have a proper dashboard fitted, and let's be honest, it still has one thing over the new Defender: Its looks.
Article Credit: Sammy Moon
Photo Credits: Car Magazine | Collecting Cars | Arrow Works | Car and Classic
Full Article: https://www.hotcars.com/a-detailed-look-back-at-the-land-rover-defender/