The Land Rover Defender, renowned for its rugged capabilities and iconic design, has captivated adventurers and off-road enthusiasts for decades. To elevate your Land Rover Defender to new heights of performance and functionality, look no further than ARB 4×4 accessories. With a comprehensive range of high-quality products designed specifically for the Defender, ARB offers a perfect blend of durability, innovation, and style. From protection and recovery equipment to vehicle enhancements and interior upgrades, ARB accessories are tailored to meet the demands of even the most demanding off-road journeys.
Exterior Accessories
ARB understands the need for robust protection while traversing challenging terrains. For the Land Rover Defender, ARB offers a diverse selection of exterior accessories. Frontal protection comes in the form of bull bars and winch bumpers, engineered to safeguard against impacts and provide mounting options for auxiliary lighting and recovery gear.
To shield the sides of your Defender, ARB provides rock sliders and side steps, which offer increased protection against rocks, tree stumps, and other trail hazards while doubling as a convenient stepping platform. Additionally, roof racks and roof bars enable you to maximize cargo-carrying capacity, making long expeditions or camping trips hassle-free.
Recovery Equipment
When venturing off the beaten path, reliable recovery equipment is paramount. ARB equips Defender owners with an array of essential tools. Their recovery kits include snatch straps, bow shackles, and winch extension straps, ensuring you are equipped to overcome challenging situations.
Furthermore, ARB's winches are designed to handle heavy-duty tasks, providing peace of mind in difficult terrain. With advanced features such as wireless remote control and integrated electronics, these winches offer reliability and ease of use when you need it most.
Vehicle Enhancements
To enhance the performance and versatility of your Land Rover Defender, ARB offers a range of vehicle enhancements. Suspension upgrades, such as Old Man Emu suspension kits, provide increased ground clearance, improved handling, and enhanced load-carrying capacity.
For better visibility on the trail, ARB's Intensity LED lights offer exceptional lighting performance, ensuring maximum safety and visibility during nighttime adventures. To conquer extreme terrains, differential locks provide improved traction and off-road capability.
Interior Upgrades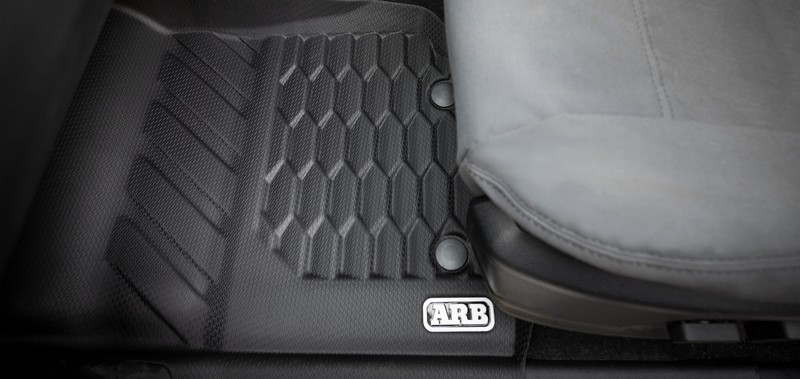 ARB recognizes the importance of comfort and convenience during long journeys. For the Land Rover Defender's interior, ARB provides a selection of accessories tailored to enhance the driving experience. Comfortable seat covers not only protect your seats but also add a touch of style to your vehicle's cabin. Drawer systems and cargo barriers optimize storage space and improve organization, allowing you to carry your gear securely.
Conclusion
In conclusion, ARB 4×4 accessories offer Land Rover Defender owners a wide range of options to elevate their vehicle's capabilities, protection, and functionality. Whether you're embarking on an off-road expedition or simply looking to enhance your Defender's aesthetics, ARB provides top-quality products designed to withstand the rigors of demanding environments. With a commitment to innovation and a reputation for excellence, ARB equips your Land Rover Defender with the accessories it deserves, ensuring your off-road adventures are both thrilling and worry-free.