The Defender specialists have built this car from the ground up.
For many, letting go of the previous generation Land Rover Defender is proving to be a hard challenge to overcome. While the new model is an exemplary 4×4 that offers comfort and capability, it lacks the rugged charm of the last one. This is why so many aftermarket outfitters have put their wrenches to works on creating restomods in an attempt to modernize the design for slightly better usability.
A usual modification for these cars is the implementation of a Chevrolet-sourced V8 engine swap but as of late, it looks like the trend of electrifying this icon is becoming a bit more common. Just earlier this month, we were treated to ECD Automotive Design's conclusive electric conversion which sourced the powertrain from a Tesla Model S.
The next to involve itself in this trend is Twisted Automotive who has installed an electric drive system that's not quite as extreme as the one found in the Model S. Using the short two-door wheelbase of the 90 model with a truck bed, the company has built this model from the ground up and states that every aspect of the car has been revised by its team of technicians.
The electrical components and running gear is described to be modular which means that you can exchange parts for more powerful mechanisms later on down the line. As of now, it offers a power output of 268 horsepower and a battery range of 130 miles. Although the powertrain is rather new-age, Twisted promises that its Defender 90 maintains its off-road credentials thanks to a high- and low-range transmission, differential lock, and generous wading depth.
Twisted doesn't give any performance figures for its electric Landy, but it says that drivers will benefit from Eco and Sport driving modes and energy regeneration through braking. The electric powertrain sourced is completely new and has been installed in the areas where the engine and fuel tank were once found.
The exterior design offers an eye-catching blend of modern tones on a classical design. For a tough look, the body is painted in a Corris Grey metallic shade contrasted by a black roof. A set of 18-inch classical wheels are wrapped in BF Goodrich all-terrain tires while braking capabilities are enhanced thanks to an Alcon brake system with six-piston front and four-piston rear brake calipers. The discs have been coated with a protective layer that helps them resist crude elements such as road salt.
Twisted gives little details regarding the suspension but it does say that it's been reworked to be more progressive, making the Defender easier to control. To ensure a low center of gravity, the battery pack has been installed as close to the floor as possible. In a bid to save weight, the design team has also replaced all of the exterior fittings with stainless steel parts.
The truck bed is finished in a textured coating to create a protective layer and is supported by a color-coded tonneau cover that operates on gas struts. An underbody chassis protection means that you can take the Defender out to treacherous locations without having to worry too much about damaging any of the components.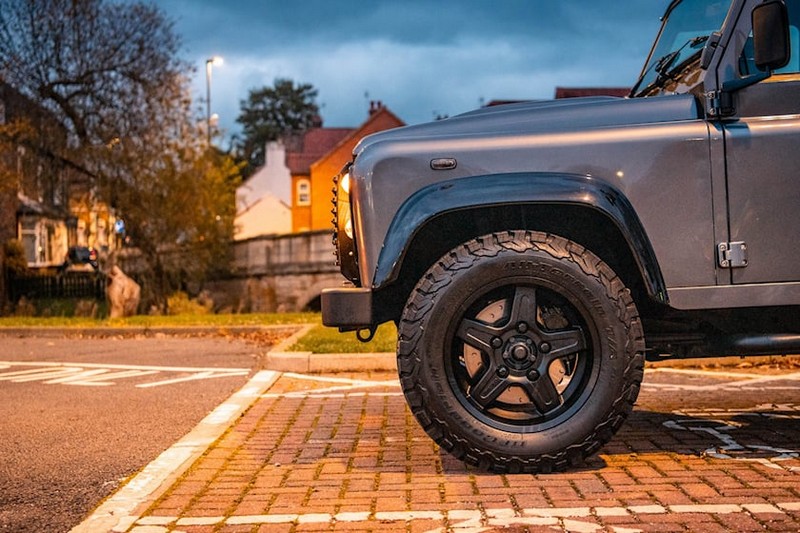 Twisted Automotive's electric Defender 90 is a rugged off-roader but the interior has been designed to ensure the comfort of the driver and passengers. The interior accommodates three individuals utilizing two sports seats and one jump seat positioned in the center. These, together with other elements of the cabin, are upholstered in contrasting black and tan leather.
A Motolita steering wheel allows the driver to enjoy more cabin space and improved control over the system. For entertainment purposes, a double DIN-radio with a digital display includes features such as Apple CarPlay, satellite navigation, and a view for the backup camera. Below this, you'll find a second digital display for the car controls and key readings besides a set of buttons that control the gears and differentials.
Obviously, a lot of time has been put into the development of Twisted's electric Land Rover Defender 90 which is why it is selling the model for £225,000 (approximately $307,000) before taxes.
The original car was produced at Land Rover's Solihull in 2015 before being revised by the team at Twisted at its Thirsk facility. The model as seen has already covered just over 1,000 miles. It explains that more of these examples will be created, but if you're too impatient, this is your best bet at getting behind the wheel of an electrified classic Defender.
Article Credit: Nikesh Kooverjee
Full Articles: https://carbuzz.com/news/electric-land-rover-defender-blends-old-and-new-for-300000