The shorter-wheelbase Land Rover Defender 90 joins the Defender lineup for the 2021 model year and gives buyers a smaller option aside from the Defender 110, which shares much of it's capabilities but is slightly burdened by its bulkier shape and heavier weight. Land Rover
It's amazing what a difference two doors and 17 inches can make.
For 2021, Land Rover added a shorter, two-door variant to its resurrected Defender nameplate: the Defender 90. Compared with its more voluminous counterpart—the Defender 110—the shorter version of Britain's iconic SUV Rover looks, well, adorable. With its natty white roof, perfect proportions, Pangea Green paint and spare tire floating on a side-opening tailgate, the Defender 90 has a different feel than the larger 110.
Even though its classic boxy shape and brilliant details are largely the same, the Defender 90's box just looks better—and more purposeful. If the four-door Defender 110 is the family-weekend SUV, driven by dutiful parents, the 90 is the one shirking work on a Tuesday to go surfing and coming home mud-sloshed and well after dark.
That's a bit of a stereotype, of course. The four-door 110 looks sharp and also likes impromptu jaunts that might include skinny-dipping in creeks or streams up to 35.4 inches deep, aided by a water-fording sensor that detects the depth ahead and displays it on the center touchscreen. And aside from the most-extreme situations, the 110 is equally adept off-road versus the Defender 90. That includes identical approach and departure angles (an indicator of its ability to climb steep obstacles without scraping its chin or rear bumper), and a selectable Terrain Response 2 system, which lets the driver choose a mode that optimizes traction depending on terrain.
But there's just something that makes more sense about a two-door SUV, whether it's the Defender, newly reborn Ford Bronco or classic Jeep Wrangler. Remarkably, prior to the new Defender 90 and the Bronco that debuted last summer (with a four-door Bronco also available), the Wrangler was the last two-door SUV still standing in America. And that configuration of the Wrangler—whose two-door history traces to the U.S. Army's Willys-Jeep that helped win WWII—is decisively outsold by its four-door Unlimited version.
Land Rover moved more than 16,000 units of its award-winning, four-door Defender in the U.S. its first year. With the Defender 90 just reaching showrooms, it's too soon to say what percentage of buyers will go for the smaller, sportier version, Joe Eberhart, president and chief executive of Jaguar Land Rover North America told Forbes Wheels.
"We do know there's a market for the Defender 90," Eberhardt says. "They're people looking for a more-individualistic, expressive type of vehicle; something that stands out from the crowd."
As Americans have given the cold shoulder to carefree, two-door coupes, from the Chevrolet Camaro to luxury GTs from Europe and Japan, that practical-minded herd also has migrated away from two-door SUVs and pickups.
Vintage Two-Doors
But oversized utility wasn't always the standard. For decades, two-door cars outsold their sedan counterparts, including through the 50s, 60s and 70s. People didn't mind scooching their way into the back seat, aided in many cases by yacht-sized coupes (think Cadillac Eldorado) with doors the size of ocean rafts. As for 4×4's of an earlier vintage, two-door models were hugely popular with the outdoors crowd. That adventurous, no-frills bunch included the Toyota "FJ" Land Cruiser—built from 1960 to 1984, now a prized collectible—the first-generation Toyota 4Runner, Chevrolet K5 Blazer, Jeep Cherokee, Nissan Pathfinder, Isuzu Trooper and the pride of Ft. Wayne, Indiana, the International Harvester Scout.
Automakers also rolled out several bite-sized, tall-riding thingamabobs that presaged today's crossover era. In 1986, Suzuki scored a hit with its funky two-door Samurai, a miniature SUV that was fun on the street and crazy-capable off-road, despite a mere 63-horsepower engine. The Samurai became the fastest-selling Japanese car in U.S. history during its first year, and spawned a Suzuki Sidekick (and General Motor's Geo Tracker offshoot), before a controversial rollover scandal kneecapped its sales and doomed it.
The original Toyota RAV4 offered a two-door model from 1996 to 2000, and a college-sophomore-friendly convertible in 1998. Oddest of all was the Nissan Murano CrossCabriolet.This two-door, convertible version of the popular Murano looked (and drove) like Humpty Dumpty after his great fall. Nissan mercifully pulled the plug in 2014 after three years of tepid sales, but perhaps it had the last laugh. Rolling up today in a CrossCabrio with its top open would draw a crowd of curious bystanders faster than some sports cars.
Nimbler Advantages
The new Defender 90 also is guaranteed to turn heads, but in a good way. I'd already driven the Defender 110 extensively, from a rugged climb up the steep shoulders of Mt. Equinox in Vermont; to hardcore off-roading in the boonies of Maine—including overnight solo camping in the Landy's optional $4,000, Italian-made rooftop tent. Both models represent a new touchstone for on-road performance in a serious off-road 4×4, thanks in part to an adaptive air suspension and a sophisticated aluminum chassis that Land Rover says is three times as rigid as the best body-on-frame trucks.
Yet on knotted country roads north of Manhattan, the Defender 90 instantly reveals its nimble advantages over its big brother, as is expected from a smaller SUV that weighs as little as 4,550 pounds versus 4,815 for the beefier 110 with the same turbocharged, 296-horsepower four-cylinder engine. That Defender 90 also costs less, starting from $48,050, versus $51,850 for the four-cylinder 110. Naturally, it's a touch quicker, no matter which of its two engine choices it has. The near-loaded, Defender 90 First Edition I drove (at $66,475) brings a just-right 395 horsepower from a 3.0-liter inline six with one supercharger, one turbocharger and a 48-volt mild hybrid boost.
It romps to 60 mph in 5.8 seconds, leaving lesser SUVs in its stylish wake. The range-topping Defender V8s arrive late this year (in both body styles), with the 90 starting from $98,550, or $101,750 for the 110. Those models get 518 horsepower from a supercharged, 5.0-liter V8, the same engine that provides artillery-fire force—with a soundtrack to match—in models like the Jaguar F-Pace SUV, F-Type sports car and Range Rover Sport SVR.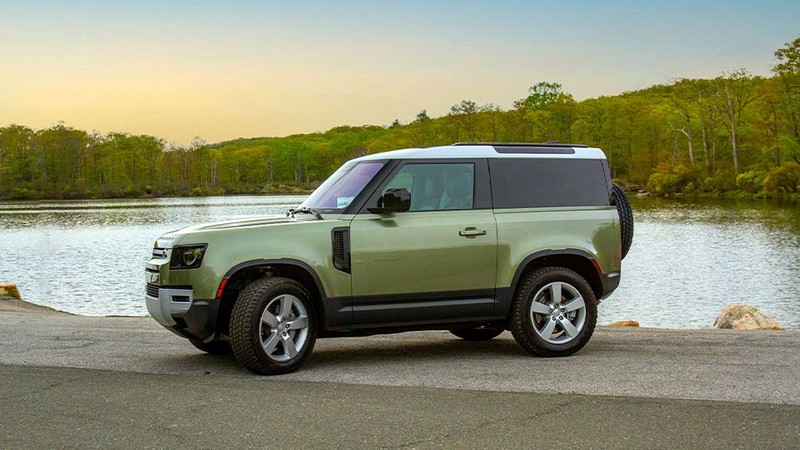 Pleasing Proportions
Whether Defender, Wrangler or Bronco, two-door versions claim an off-road edge as well, even if only a small percentage of owners will maximize that ability. Compact dimensions let them pick their way through narrower trails and tighter turns than their beefier siblings. Shorter wheelbases allow them to surmount taller obstacles without getting "high centered," or hung up near their middle like a seesaw on its fulcrum.
The best-kept secret of these rough-and-ready SUVs? They're actually perfect for a certain type of city slicker, as this former two-door Wrangler owner will attest. The new Defender 90 is barely 170 inches long, more than a foot shorter than a compact Honda Civic sedan. (A two-door Wrangler stretches about 167 inches). That lets them squeeze into remarkably tight parking spots. At the same time, they're tall, well-armored fortresses, perfect for seeing over traffic and fending off unpredictable Uber drivers. These SUV's also laugh off potholes and other urban obstacles that destroy the tires and wheels of conventional cars.
"The Defender really does lend itself to an urban environment," Eberhardt says.
Tricky Entry and Exit
For all their pleasing proportions and performance advantages, the two-door handicap remains. Relatively scrawny cargo space and a trickier back seat equals horrible ingress and egress. Climbing out of them requires a younger man's dexterity to avoid tripping over the sill and landing teeth first on the pavement.
The two-door Defender makes things easier, including a button on front seats that powers them forward for easier (but still clumsy) access. Once aboard, however, headroom is vast enough for NBA forwards, and legroom is ample.
The bigger tradeoff is that the 17 inches of lost length (versus the 110) is virtually all in the cargo hold. The 110 more than doubles the 90's cargo space behind the second row, with 34.6 cubic feet versus 15.6. The 110 also offers a child-sized pair of third-row seats for seven-passenger capability. The 90 does provide an optional jump seat (also available on the 110) that converts front buckets into a handy three-row bench, for six-passenger capability. Yet for families with twin strollers and mountains of gear, the 110 is the logical play.
Stuart Schorr, JLR North America's communications chief, rightly notes that prospects will know which club they belong to: "When I take certain people for a ride in the 90, they say, 'I would definitely get this one [because] I'm not looking for a practical solution; I'm buying it because it's cool, and I like it.'"
Article Credit: Lawrence Ulrich
Full Article: https://www.forbes.com/wheels/features/why-land-rover-nailed-the-defender-90/