✔ 3 doors, 5 seats
✔ Engine 3.0T, 6 cyl.
✔ Engine Power 294kW, 550Nm
✔ Fuel Petrol (95) 9.9L/100KM
✔ Manufacturer 4XD
✔ Transmission 8 Spd Auto
✔ Warranty 3 Yr, 100000 KMs
✔ Ancap Safety
What happens when you drop $150,000 on Land Rover's short-wheelbase Defender? Sam Purcell was happy to find out.
What we love
Smooth, powerful and enjoyable powertrain
Second row experience is better than you might think
Loads of technology
What we don't
The price, which is a little outrageous
Options only make the price worse
20-inch wheels reduce off-road suitability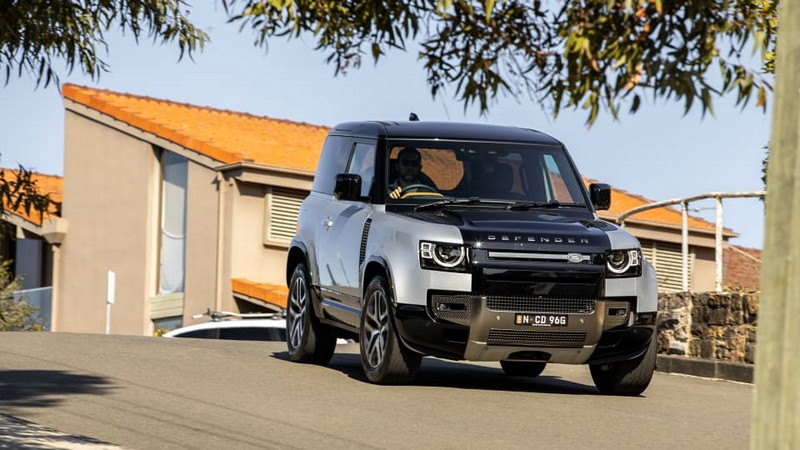 If you're looking for a fully loaded Defender 90 – and your pockets run deep enough to sign the paperwork – this is the specification you'll be looking at: a 2022 Land Rover Defender 90 P400 X.
The 90 refers to the two-door, short-wheelbase configuration, P400 refers to the powerplant under the bonnet (with 400PS, or 294kW), and X refers to the top-of-the-pops trim level.
Before the 386kW, $200,000+ Defender P525 V8 turns up, this Defender P400 X represents the most expensive and most powerful variant of the new Defender. But with 294kW and a starting price of $141,356 before options and accessories, this variant doesn't exactly pull any punches in terms of power or price.
However, the question must be asked. Sitting atop a range that starts at just about half the price ($74,516), does a Defender 90 at this expense make sense?
Key details
2022 Land Rover Defender 90 P400 X
Price (MSRP)
$141,356 before on-road costs
Colour of test car
Haksuba Silver
Options
Comfort & Convenience Pack (Wireless charger, front centre console refrigerator compartment) – $1590
Front undershield – $1037
Privacy glass – $999
Three-zone climate control – $910
Leisure activity key – $910
Cabin air ionisation/PM2.5 – $606
Air quality sensing – $195
Price as tested
$147,603 before on-road costs
Rivals
Jeep Wrangler Rubicon (at half the price) | Mercedes-Benz G-Class (aesthetically, maybe)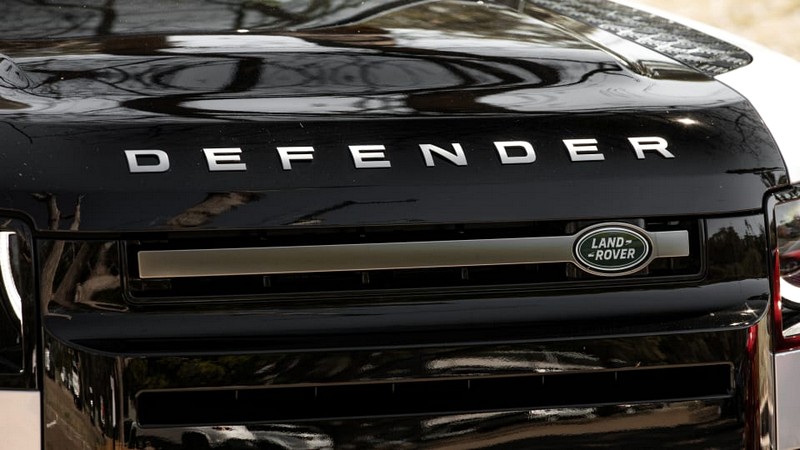 Inside
Let's start in the back seats, because this is new and interesting for the Defender 90.
The seating position is quite good, with lots of space and great visibility thanks to the jacked-up seat base. It leaves the boot with a significantly lower floor, and a noticeable step up between the two. It's not a deal-breaker, but it's also not as practical as a floor that can fold flatter. But every bit of storage space in here should be kept, I guess.
Two adults will be absolutely comfortable in the back here, and three will only be a little bit of a squeeze.
Access into the second row isn't as bad as you might think. Obviously it's not as good as the five-door Defender 110, and won't suit those with baby seats, but it's acceptable and workable. Don't forget, you can drop the air suspension down for easier access. One push of a button on the seat moves it forward all the way, and then a lever tilts the backrest forward for your access.
There is plenty of legroom in the back, and a multitude of power outlets: USB-A, USB-C and 12V totalling six (!) for the second row. Cupholders on the floor feel like a bit of a compromise, however, and windows in the back don't open.
Actually, a total of 13 power outlets in this two-door car feels a little excessive. It's a better problem to have than not enough, but could you ever use all of them at once?
We've also got the optional climate and vent controls in the back, and the seats (with 40/20/40 split) have a pop-down cupholder in the middle.
Don't forget, this short wheelbase isn't that short. It's 4323mm long and sits on a 2587mm wheelbase, which is 283mm and 227mm longer respectively than the last-generation 90 (4040mm long and 2360mm wheelbase).
Up front, you get the same awesome and unique interior experience as other Defenders. X specification gets the nice materials inside, with brown leather trimming on the dashboard and doors, textured walnut on the centre console, and black treatment to the metals on the dashboard and steering wheel.
These leather seats have 14 different directions of adjustment, memory, heating and ventilation. The steering column has electric adjustment, and the head-up display is also nice – if not necessary – to have.
I personally really dig the brown materials and textured wood. But many facets are the same as lesser Defenders: the steering wheel, infotainment display and digital instrument cluster.
None of this is a weakness, as the two digital displays are of high quality and functionality with loads of functions to flick through. But aside from the higher-grade seats and a smattering of nice materials, it's mostly the same hardware and software as lesser Defender specifications.
Other details include sporty metal pedals, a Meridian-branded sound system, and an optional cooled centre console.
The Defender's 397L boot size feels similar to what you will get in a medium-sized SUV. There's actually quite a bit of space available, as long as you're able to stack things up high.
There is a 240-volt power outlet in the boot of our tester, along with an air compressor, hooks, air suspension buttons, and a 12V plug. The cargo blind is a flimsy-feeling fabric one that tends to flap around a bit.
| | |
| --- | --- |
| | 2022 Land Rover Defender 90 P400 X |
| Seats | Five |
| Boot volume | 397L |
| Length | 4323mm |
| Width | 2008mm |
| Height | 1969mm |
| Wheelbase | 2587mm |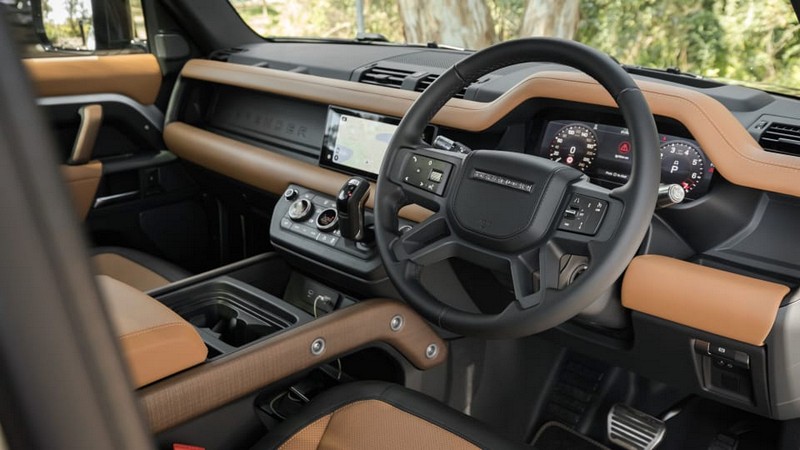 Infotainment and Connectivity
The Land Rover Defender was the first model to get the new Pivi Pro infotainment system, which is a winner. The operating system looks fresh and is easy to navigate around. There's Apple CarPlay, Android Auto, native navigation and digital radio, and the inclusion of a volume knob (along with good steering wheel controls) makes it easy to manipulate.
This is joined by an equally impressive fully digital instrument cluster, which is a little bit fiddly to set and adjust according to your tastes. You do get there eventually, and you can choose between things like speedometers and tachometers, all the way through to a full-sized map. It's crisp and well-detailed, which you cannot say for all.
Safety and Technology
The Land Rover Defender scores very well for safety and technology, which couldn't be more different to the Defender that it replaces. Along with a recent five-star ANCAP safety rating, the Defender has lots of modern active safety technology like autonomous emergency braking, lane-keep assist, blind-spot assist, 360-degree camera with 3D functionality, clear exit monitor, adaptive cruise control, driver-condition monitor and traffic sign recognition.
Other stuff like tyre pressure monitoring, over-the-air updates, rear-view display through the mirror, keyless entry and push-button start, parking aid and high-end matrix LED headlights also help the equation.
For an off-roader, the inclusion of front and rear recovery points, which are rated for off-road use no less, is a great addition to have as standard fitment. While the stout-looking rear recovery eyes used to be only available for the X specification, Drive understands that this will be a feature made available as an option for lesser specifications as well.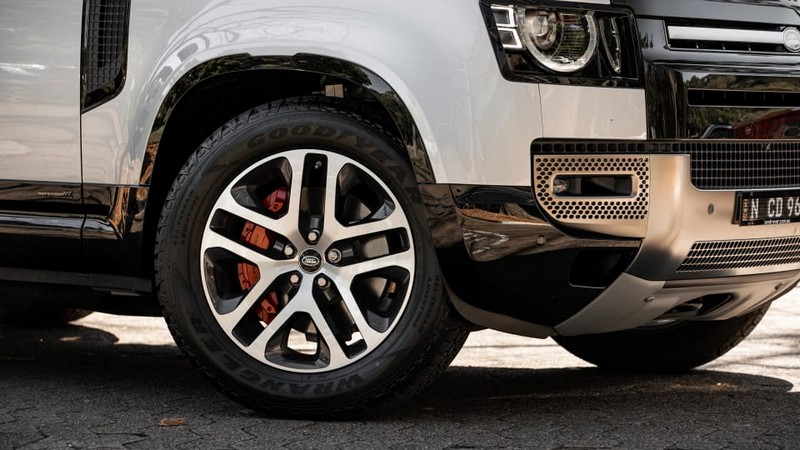 Value for Money
As delightful and enjoyable as this Defender might be, the value-for-money equation really feels like it gets blown away in this specification.
It's a problem made more poignant by the fact that kerbside appeal doesn't really seem to be reduced by lower-specification offerings. While some might pine for the bigger alloy wheels, darkened exterior accents and two-tone treatment like we have here, the 18-inch steel wheels and simpler colour palettes of a car half the price of this one are equally as appealing.
Put that down to the design, which has largely been praised by most pundits, even though it's been caught stealing the Discovery's lunch.
And while Land Rover has made efforts to streamline the staggering amount of options and configurations available for prospective Defender buyers, there is still a maze of paths to investigate when finding a specification that suits your needs.
It's safe to say, however, some options on this high-grade Defender do seem to be removing the urine, so to speak. Privacy glass ($999) takes the cake in this regard, but one could easily argue that things like a wireless charging pad and centre console ($1590) should be standard in this expensive specification, as well as three-zone climate control ($910) and front undershield ($1037).
| | |
| --- | --- |
| At a glance | 2022 Land Rover Defender 90 P400 X |
| Warranty | Five years / unlimited km |
| Service intervals | 12 months / 20,000km |
| Servicing costs | $2250 (5 years) |
| Fuel cons. (claimed) | 9.9L/100km |
| Fuel cons. (on test) | 13.4L/100km |
| Fuel type | 95-octane petrol |
| Fuel tank size | 90L |
Driving
This P400 motor – which uses a conventional turbocharger and a 48-volt supercharger – is wonderful. It's got the classic smooth rumble of a straight six, and the two forms of forced induction allow for great linear responsiveness all through the rev range.
Its 294kW at 6500rpm matches a Nissan Patrol, for example, but at a higher rev ceiling and pushing much less overall inertia. The 550Nm matches a Patrol as well, but twin forms of forced induction allow a long delivery between 2000-5000rpm. So if you're looking for prime petrol performance in a four-wheel drive, then this six-cylinder Defender has got the V8 Patrol beat.
This X-specification Defender has 20-inch wheels and air suspension, but doesn't feel hugely different to the massively cheaper coil-sprung Defender 90 we drove a while ago. It's still quite good, but not as plush as the 110. Blame the wheelbase. However, it has an added dose of liveliness thanks to the shorter length and lower mass.
Tyres tend to let qo quite quickly, but I think because it feels so well planted through ride and steering at speed, you tend to drive this Defender faster than one probably should. But regardless, it's a lot of fun.
Not as practical as a 110, obviously, but it's not as bad as you'd think. Much better than a Jimny or Wrangler, for example, because it's a fair whack bigger (and also much more expensive).
What sort of car was somebody buying before the 2022 Land Rover Defender 90 came along?
Fuel economy: against the claim of 9.9 litres per hundred kilometres, we saw 13.4L/100km being used for the same distance during our test. In its defence, I did spend a fair amount of time exploring and enjoying that 3.0-litre straight six. You tend to forget how nice a straight six can be after V6s have dominated proceedings for so long.
| | |
| --- | --- |
| Key details | 2022 Land Rover Defender 90 P400 X |
| Engine | 3.0-litre six-cylinder turbo petrol |
| Power | 294kW @ 5500-6500rpm |
| Torque | 550Nm @ 2000-5000rpm |
| Drive type | Four-wheel drive, low-range transfer case, active centre diff |
| Transmission | Eight-speed torque convertor automatic |
| Power to weight ratio | 138.8kW/t |
| Weight | 2245kg |
| Tow rating | 3500kg braked, 750kg unbraked |
| Turning circle | 11.3m |
---
Conclusion
The Land Rover Defender 90 will never be a car that somebody buys on pragmatic or rational grounds. It's what you want, rather than filling a specific job or need. The high asking price of this X specification pushes that envelope even further, and makes it virtually impossible to recommend amongst the broader range.
But that doesn't take away the fact that this is a thoroughly enjoyable vehicle. To look at, sit in, and to drive, of course, the Defender is a real pleasure.
This 294kW 3.0-litre petrol engine is a peach and matches well with the eight-speed gearbox. The ride, while not as sumptuous as the longer-wheelbase 110, is still very good. Higher speed on-road driving is surprisingly enjoyable, especially if you have experience with the old-school Defender.
And, of course, there's more off-road capability in this new Defender 90 than most will ever need.
This top-dog Defender (before the V8 turns up) will no doubt suit the tastes and budgets of many, and offers an interesting mix of urban chic, off-road ability, towing capability, and something of a small and fun footprint.
However, it's not as compelling as it could be. And with the wide variety of specifications and options available, it's not hard to find significantly better bang-for-buck in other parts of the ladder.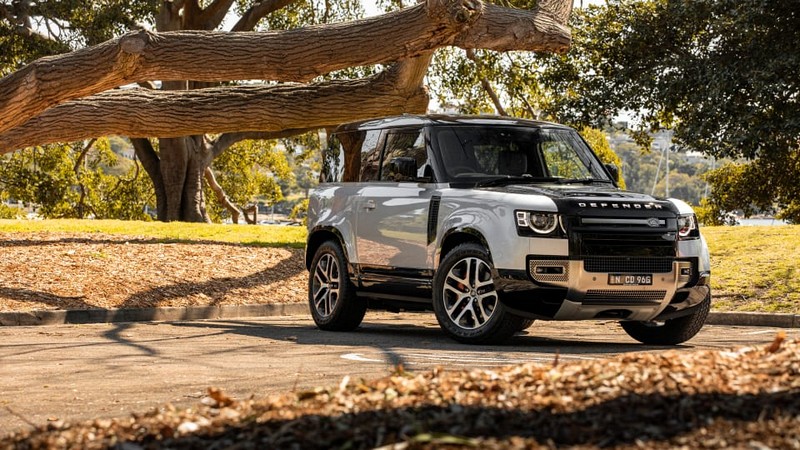 Ratings Breakdown
2021 Land Rover Defender 90 P400 X Wagon
8.1/ 10
Performance 8.4
Ride 8.1
Handling & Dynamics 8.3
Driver Technology 8.5
Interior Comfort & Packaging 8.3
Infotainment & Connectivity 8.2
Fuel Efficiency 7.4
Safety 8.5
Value for Money 6.6
Fit for Purpose 8.4
Article Credit: Sam Purcell
Full Article: https://www.drive.com.au/reviews/2022-land-rover-defender-90-p400-x-review/