Presented by Private Seller – The Land Rover Defender is an ultimate classic. Known the world over for its ability to brave just about any terrain that the Earth has to offer, the Defender has been a favorite in the off-road world for decades. Now that the original Defender is no longer in production, being able to relive the nostalgia of the Defender while maintaining the capabilities of the greatest off-road vehicles in the world requires some work. With this Customized Land Rover Defender 110 for sale, all the work is done for you, and what you get is a turnkey, ready-to-drive modern classic that's ready to take on anything you need it to.
Completed in 2019, this Customized Defender 110 is the ultimate modern classic, the Land Rover Defender that conquers the best of both worlds. With a wood-grain steering wheel by Momo, brown leather interior, and jump seats allowing for a total of six people to sit, you get to own a piece of automotive history and the legend of the classic Defender. At the same time, features like navigation, premium sound, puddle lights, LED lights all over, and even Wi-Fi make the Customized Defender 110 a truly luxurious and modern vehicle with the capabilities of the best that the automotive industry can offer. And when it comes to performance, the powerful 6.2 Chevrolet LS V8 engine puts 575 horsepower at your disposal, while the six-speed automatic transmission makes the Customized Defender 110 easy and convenient to drive.
If that sounds like a dream Defender to you, you're in luck. Sam Wiand is selling this ultra-luxe, ultra-capable Customized Defender 110, and if you are interested, you can contact him for the price and more information.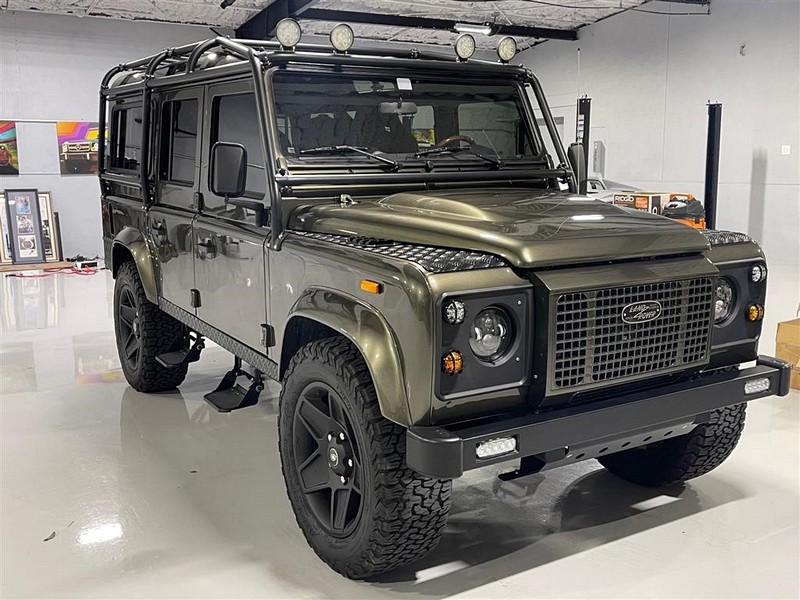 Article Credit: Edward Jones
Full Article: https://blog.dupontregistry.com/for-sale/1995-land-rover-defender-110-by-ecd-for-sale/