Land Rover revitalized the storied Defender marque in 2020, and these new and capable vehicles have been met with largely rave reviews and acclaim from the automotive industry. The Defender 90 featured retro-inspired looks and a compact size with only three doors, while the 110 has filled the role of the traditional, full-sized SUV in the lineup. From the streets to the outback, the new offerings have quickly shown that they are worthy of carrying the legendary Defender name.
Now, Land Rover has announced that their new family of Defenders is getting just a bit bigger, with the introduction of the new Defender 130.
On The Inside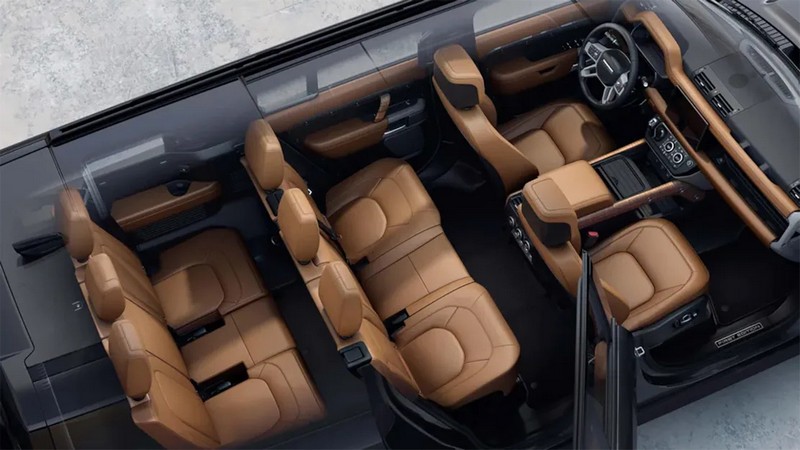 The largest member of the Defender family, the 130 keeps the familiar aesthetics of the 90 and the 110, but now offers seating for up to eight via a third row of seats. This extra capacity comes without a change in wheelbase from its smaller siblings; while the Defender 130 is well over a foot longer than the 110, they simply stretched the body and extended the rear overhang to maximize interior space for both passengers and cargo. Third-row seats don't always have the best reputation for comfort, but Land Rover has gone out of their way to ensure a plush experience for those in the very back. Standard equipment includes USB charging ports and cup holders, and the large seats feature armrests as well. With the third row folded down, you have a spacious 77.5 cubic feet of storage available for your bags, groceries, and camping supplies.
Of course, there's plenty more to talk about than just the third row. Land Rover has put quite a bit of energy into making the interior of the new Defender as sumptuous as it can. Prospective buyers can choose from a wide array of high-quality leathers which are accented throughout the cabin by rich wood veneers and chrome trim. The center console also sports a curved 11.4" touch screen for easy navigation as standard. Look up and you'll find a panoramic sunroof on every vehicle, as well as multi-zone climate control.
The Defender has radically changed from its humble and utilitarian origins many decades ago, and the new Defender 130 now gives eight people a chance to see the world from a new lap of luxury.
Under the Hood
There's just a tiny bit of bad news for those planning to make use of the 8,200-pound towing capacity of the new Defender 130 – there's no V8 available. Given the tremendous size of the vehicle, especially when loaded down with eight passengers, their luggage, and maybe a pair of jet skis, giving customers the option of a higher-output V8 would have made a fair bit of sense. That said, V8s are largely falling by the wayside in this era of fuel economy standards, turbochargers, and stellar 8-speed-and-up transmissions. The Defender 130 will be powered by two "mild hybrid" six-cylinder options. The best choice for most commuters will probably be the P300 motor, which has start-stop capabilities, and also some basic energy harvesting abilities on deceleration with 296 horsepower and 347 lb-ft. of torque. The other inline six on offer, the P400, is more powerful and makes 395 horsepower and 406 lb-ft. Both are turbocharged and displace 3.0 liters. The eight-speed transmission behind either of these will help make up for the absence of the V8, and the Defender 130 will likely be a great highway cruiser as well. Official fuel economy statistics aren't out as of press time, but it wouldn't be surprising to see highway MPGs in the mid-20s if Land Rover did a good job with the gearing.
The Defender 130 still looks to be a decent performer off-road despite its somewhat bloated appearance. The large rear overhang has been subtly carved away to maintain a 28.5 degree departure angle, down from the 40 degrees that the 110 and 90 boast. Although the loss of departure angle is a little disappointing for serious off-roaders, it's highly unlikely that most of these trucks will ever see any extreme rock crawling. Still, with the standard air suspension and extra ground clearance over its more svelte, city-dwelling competitors, the Defender 130 should make a great mild overlander, perfect for a weekend cruising down Pismo Beach or hitting some gravel roads on the way to a favorite family camping spot.
Odds & Ends
There's a few other sundry things that those looking into the new 130 might want to take note of, and a few things that also might get lost in some of the commotion around the more exciting features. A new color, Sedona Red, will make its way solely to this model. If that's not exclusive enough for you, you might want to take a look at a First Edition; this "carefully curated" model will be available in three different colors and with a wide variety of options. LED headlights come standard on all trim levels, as well.
We all love our quirks and features, and here's one of the coolest – the Defender 130 will also feature "Cabin Air Purification Plus" technology. Events of the past several years aside, this should be a great quality-of-life improvement for anyone who plans on spending a lot of time in their new Defender – sitting in traffic on the Beltway, or driving through a flash dust storm out West.
Concluding Thoughts
While they have always been incredibly capable vehicles, Land Rovers (and especially old ones) did have a reputation among enthusiasts for being a little… finicky. Over the past few years, Land Rover seems to have made it a priority to improve their build quality and reliability across their lineup, and the Defender 130 looks like the high point of those efforts so far. It offers the luxury touches and fit-and-finish that buyers spending $68,000 on a new vehicle will want, along with enough off-road capability to make it adventure ready for nearly every type of terrain. The new Land Rover Defender 130 checks a lot of boxes and is definitely near the top of the heap for those looking for a do-everything people hauler.