Land Rover lovers unconvinced by the exterior frills and fripperies of the new-style Defender can now have all the mod cons, and a V8 engine, shoehorned into an old model's boxy frame.
The service is offered by Arkonik, a Somerset-based company that painstakingly re-engineers veteran vehicles by restoring or replacing almost every component until they're in better-than-new condition.
It also has an almost endless list of customisation options, from touchscreen infotainment to tweed-lined trim, electric windows and heated seats.
There's a catch, though. The best of this luxury is rather expensive, and the vehicle we tried would set you back a staggering £180,000.
That's partly due to its specification, which includes a 6.2-litre Chevrolet LS3 V8 producing 430bhp – more than six times the power of the 2.5-litre diesel engine found in many of this car's contemporaries. 
Hacking out some of the particularly pricey extras can bring that down to £110,000, which includes the cost of an Arkonik-sourced donor.
The company is also looking at the prospect of offering a conversion service for existing Defender owners which could, mercifully, bring the price within five figures.
But can a 30-year old Defender really be worth more than a brand new Aston Martin? In purely rational terms, the answer is probably no.
However, it's the work that goes into restoring and customising these cars, rather than the modern equipment additions, that has apparently made them so alluring.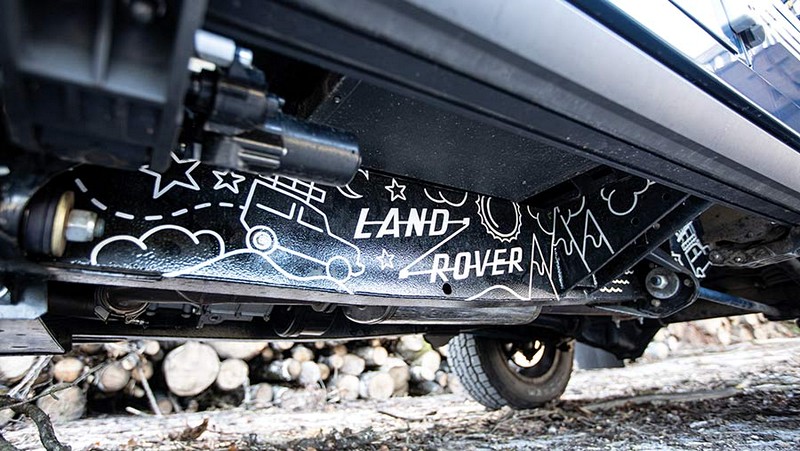 Arkonik Defender spec at tested
Engine 6.2-litre V8 petrol
Transmission six-speed automatic with manual mode
Power 430bhp@5,900rpm
Torque 576Nm@4,600rpm
Top speed 120mph
0-60mph 6sec (est)
Consumption 16mpg
Minimum underbody ground clearance, unladen 314mm
Axle ground clearance 250mm
Maximum wading depth 500mm
Kerb weight 2,125kg
Payload 925kg (seven-seat CSW)
Towing capacity 3,500kg
Price (as tested) £180,000
Base price from £110,000 (based on Defender 90 200 Tdi, including donor vehicle)
Warranty 12 months (vehicle) 24 months (engine and transmission)
The rebuild
"Each car is stripped completely and given a nut and bolt rebuild. It's an overused term, but they really are better than new," says Arkonik brand manager, Andy Stacey.
Many are destined for North America, where the vehicles must be at least 25 years old and fitted with their original chassis and engine to comply with import regulations.
However, for UK customers there's the option of starting from a brand-new chassis.
In either case, the roof, bulkhead, seat boxes and rear tub are replaced with new versions fabricated on-site.
The remaining panels are removed and sanded back to bare metal before they are prepared, primed, baked and inspected. Each one is then refitted by hand to ensure perfect alignment.
"Over the years we've identified areas that are weaknesses of the original builds," says Mr Stacey. "For instance, water ingress is a big issue on the Defender, so we seal off the vents on the new bulkheads and put membranes in the door skins. All our vehicles are pressure tested once they're assembled."
Explore more / Know How
Most are sold with the original Land Rover engines to comply with the US import regulations. These tend to be the 200 Tdi and 300 Tdi diesel engines or the 3.5-litre Rover V8 (all subject to a complete rebuild before installation).
The Chevrolet LS3 is an aftermarket conversion at Arkonik's US facility in Charleston, South Carolina. This is a popular option in the States, accounting for around 60% of sales, but the company is now offering the LS3 conversion in the UK, too.
On the road
Our test car, a 1984 Land Rover 110 County Station Wagon, belongs to Arkonik's founder, Andy Hayes. Rebuilt last year, it was originally intended as a tribute to the first car he restored in 2006.
But as the build progressed it evolved into a showcase for the company's capabilities, complete with a digital dashboard, a touchscreen infotainment system and electrically retractable side steps.
"The initial idea was simply to recreate Andy's original car, so we were going to stick with the Rover V8, but upgrade it to a 4-litre unit from a Range Rover," says Mr Stacey.
"We actually had the engine in the workshop ready to fit, but we were getting more enquiries about LS swaps, so we decided to build it as our first right-hand drive LS-powered example."
The big V8 has a creamy burble at low speeds that could almost be mistaken for the original Rover engine. It's more than happy to potter around gently, allowing the six-speed automatic gearbox to shuffle its ratios discreetly in the background.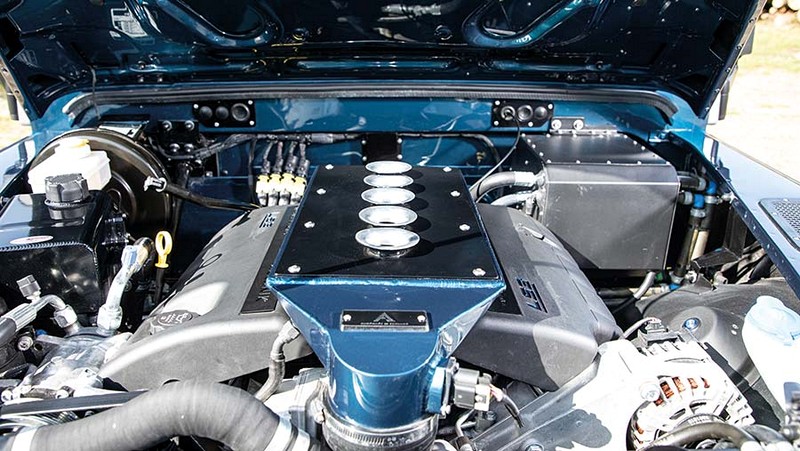 Put your foot down, though, and it turns into a very different animal, with a fantastically raucous soundtrack and a level of performance that's totally at odds with this car's relatively standard appearance.
Arkonik estimates the 0 to 60mph time at around six seconds. If anything, that feels a tad conservative.
Fortunately, the company has worked its magic on the chassis as well. Firmer suspension, an upgraded steering damper, poly bushes all-round and a slight reduction in ride height help to significantly tighten up the handling.
Even at low speeds, the extra precision is immediately apparent, as is the calmer ride. Aside from the fractionally lower ride height – offset by the new 18-inch wheels, in this instance – the off-road performance should remain unchanged.
For all these improvements, though, it still feels like driving a classic Land Rover. Arkonik uses the original steering box (along with the almost comically large steering wheel) which means that the boat-like turning circle remains.
Likewise, the upgraded brakes – 330mm Tarox discs all-round, gripped by six-piston calipers – provide plentiful stopping power, but the pedal still needs a good shove. Overall, it feels like a good balance between modernisation and authenticity.
Interior upgrade
The same applies to the interior. Every Arkonik build gets a custom wiring loom and complete re-trim, including new seat coverings, carpets and headlining. The leather and tweed upholstery feel suitably expensive and look in keeping with the traditional design.
Even the touchscreen infotainment system blends in well with the original centre console, although it can be a little fiddly to operate. Other refinements include LED headlights, a reversing camera and a heated front screen.
Of course, you'd get all of these features and far more if you had the financial firepower to spend £180,000 on a mainstream luxury car.
It certainly won't be for everyone, but if you're looking for the ultimate classic Land Rover experience, this might just be it.
Back to its roots
Based in the heart of Somerset, Arkonik is a rural business with a truly international reach. It employs more than 70 people locally and exports up to 100 vehicles a year.
The company's roots stretch back to 2006, when founder Andy Hayes was laid up for two months following a motorcycle accident. His wife bought him a 1984 Land Rover Defender 110 County Station Wagon to restore once he left hospital.
When the time came to sell the car, Andy was struck by the level of interest that it generated, so he set up what is now Arkonik (originally called Land Rovers UK) in a small industrial unit in Midsomer Norton. The business grew rapidly and moved to its present home near Mells in 2010.
Over the years, the company's work has evolved from mild restorations into nut and bolt rebuilds, with a comprehensive tailoring service that allows customers to build their dream Defender.
Initially, most of the cars were sold in the UK, but following the global financial crisis of 2011, Mr Hayes and his colleagues began to focus on exports. In particular, North America proved to be a key market, and it's here that a majority of Arkonik's projects now end up, with left-hand drive donors sourced from Europe.
The brand returned to the UK market in 2020 with the unveiling of its first Chevvy V8-powered version at this year's Autosport Show.
Article Credit: Chris Pickering
Photo Credits: James Cheadle
Full Article: https://www.fwi.co.uk/machinery/4x4s/arkonik-upgrade-gives-old-land-rover-defenders-a-430hp-v8