Description
SMITTYBILT GEN 2 X20 10 WINCH
The all new Gen 2 Smittybilt X2O 10 10,000 lb winch has all the muscle and peak performance to keep you moving in just about any situation.
The Gen 2 X2O 10 features series wound amphibious technology, which completely seals the 6.6hp series wound motor as well as the three stage planetary gear system. The winch also features an oversized, completely waterproof, state of the art 500-AMP solenoid that has the versatility to be mounted over the winch motor or winch cable.
With 28m of synthetic rope as standard, outstanding performance, a 218:1 gear ratio that delivers lightning fast speed and the backing of a limited lifetime warranty, you can count on the Gen 2 X2O 10 to extract you from the stickiest of situations.
SPECIFICATIONS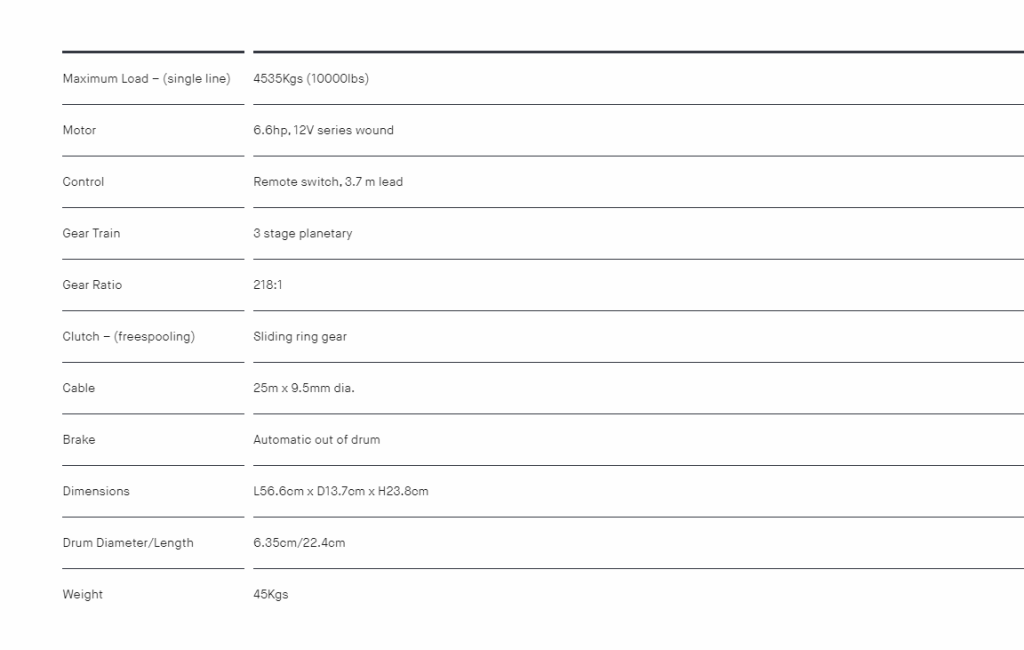 PERFORMANCE DATA

FEATURES
• 500 amp waterproof solenoid that can be mounted over either the winch motor, winch cable or winch bar pan.
• UV resistant matte black textured finish for extended longevity.
• 6.6hp 12V series wound amphibious motor includes a cast alloy motor end cap designed to dissipate heat from the motor.
• Oversized tie rod strut provides maximum strength.
• IP68 rating for full submersion.
• Larger clutch for easy control during gloved operation.
• Revolutionary 3-stage planetary gear system for ultimate strength and quiet operation.
• The exclusive Smittybilt Dynamic Braking System reduces drum temperatures by 66%, making it perfectly suited to operate all types of synthetic rope.
• 28.65m of Synthetic DSK-75 10,000lb rope and aluminium hawse fairlead.
• Heavy duty rubber handled winch remote with 3 pin socket, 3.7m lead including a front end magnet.
• Quality forged hook provides the ultimate in strength.
• Durable rope sleeve for protecting the synthetic rope from damage when used over abrasive surfaces.