Description
SAFARI SNORKELS
Protecting your engine from dust, snow and water ingestion is essential for keeping your Defender on the tracks and not the side lines. A Safari snorkel will ensure that clean, dry air is always available, regardless of the conditions.
Manufactured in Australia from premium quality polyethylene, Safari snorkels are UV stable and incredibly resilient to withstand the harsh Australian environment. All systems are individually designed and undergo thorough research and testing prior to being tooled for production.
Safari snorkels are positively sealed to provide the ultimate in engine protection during river crossings and dusty conditions, while the quality fixtures and fittings ensure superior appearance and long term durability.
Install one before your next trip and breathe easier knowing that your engine is protected by a Safari snorkel.
CLEVER DESIGN

Safari's Air Ram system is a pivotal and functional attribute of the snorkel; CAD and lab tested, the Air Ram is designed to simultaneously remove the maximum volume of water from the incoming air stream, while delivering the maximum airflow to your vehicle's engine.
DURABLE MATERIALS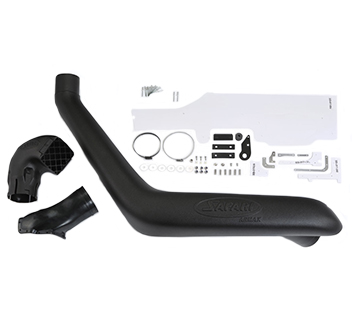 Safari snorkels utilise a UV stable polyethylene body which ensures a strong and robust fitting to the outside of your 4×4, complemented by high-grade stainless steel and plated hardware for corrosion resistance on all internal and external fittings and fixtures. All Safari connection ducting is custom designed and tooled and is manufactured from EPDM moulded rubber, rated to a continual 130°C operating temperature. There is nothing better!
VEHICLE SPECIFIC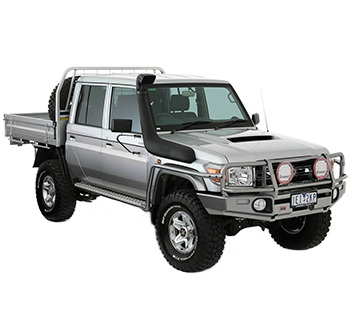 Nothing fits like Safari. As a result of the intricate design process, working with a combination of CAD modelling and actual vehicles, Safari snorkels are manufactured to integrate seamlessly. Where other products might look similar, none are developed with such attention to detail from the air-box back to the Air Ram to work perfectly with your vehicle.
SAFARI SNORKEL FEATURES
[ngg src="galleries" ids="28″ display="basic_imagebrowser"]