Description
ARB SLIDE KITCHEN
CAMP COMPLETE
From the campsite to the worksite, the roadside to the trackside or riverside – no matter where you are, imagine the convenience of a fully contained kitchen out the back of your 4WD.

COMPLETE VEHICLE INTEGRATION

Designed to integrate with ARB drawer installations, the Slide Kitchen features the same dimensions as ARB's full height (RD/RDRF), mid-height (RFH) and low height (RF) dual cab drawer systems, allowing it to be paired with any of ARB's roller, mid-height or full-height drawers.
EASY SETUP AND OPERATION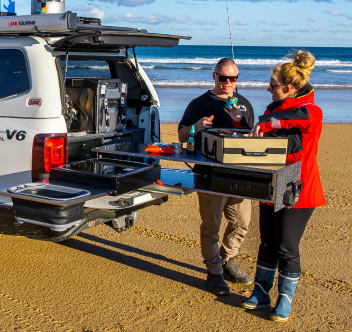 The Slide Kitchen can be set up or packed up in 15 seconds! Simply pull the slam latch drawer handle and roll out the stainless steel bench. Once fully extended, the bench locks into place and to complete the full setup, lift the red locking tab to release the swing-away stove and sink.
FULLY RETRACTABLE AND COMPLETELY FREESTANDING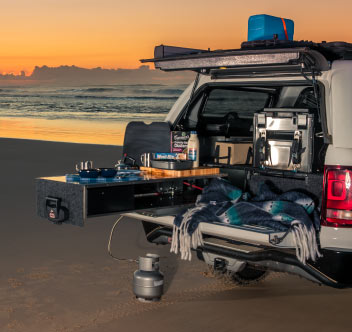 The fully retractable over extension roller design provides complete clearance of the vehicle. Once the bench is fully extended and locked into place, it sits completely freestanding, without need for a support leg.
EXPLORE THE FEATURES
Featuring a stainless steel benchtop, gas stove, utensils drawer and sink, the Slide Kitchen offers the convenience of a fully contained kitchen which slides out of the back of your 4WD in a matter of seconds.
3 Burner Gas Stove for Land Rover Defender 90 (2009 – Present)
Stainless Steel Benchtop & Utensils Drawer for Land Rover Defender 90 (2009 – Present)
12L Collapsible Sink for Land Rover Defender 90 (2009 – Present)
Replacement Drawer for Land Rover Defender 90 (2009 – Present)
Exterior: 1355mm (l) x 500mm (w) x 310mm (h)
Interior: 1250mm (l) x 485mm (w) x 190mm (h)
Benchtop: 1250mm (l) x 485mm (w)
Internal Small Drawer: 450mm (d) x 345mm (w) x 145mm (h)
Optional Replacement Drawer: 1210mm (d) X 445mm (w) x 145mm (h)
Weight: Approximately -89kg