If you need the perfect demonstration of the new Defender's capability, here it is.
The new Land Rover Defender is one of the most capable off-roaders you can buy right now, offering impressive approach and departure angles of 38 and 40 degrees respectively and generous ground clearance. As we've seen in behind the scenes footage from the upcoming James Bond movie 'No Time to Die,' Land Rover's new off-roader can take some serious punishment. With a maximum towing capacity of 8,201 pounds, the new Defender is also an ideal vehicle for towing large vehicles out of trouble, as this video perfectly demonstrates.
In Strafford, England, a transporter fully loaded with new Discoverys, Discovery Sports, Range Rover Sports, Range Rover Evoques, and Range Rover Velars worth a total of around £500,000 ($682,000) was making a delivery to the Stafford Land Rover dealership on icy roads.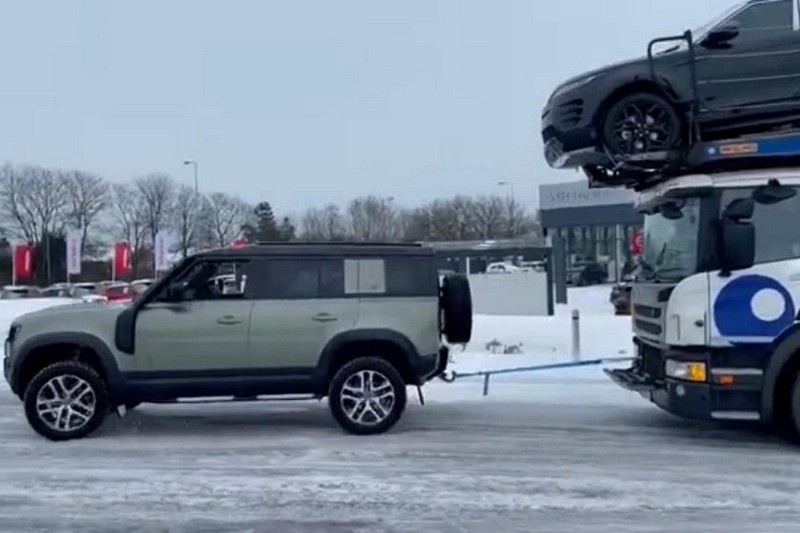 Just a few feet away from the dealership, the transporter got stuck in the treacherous conditions. Witnessing the delivery driver's ordeal, the dealer's sales manager, Matt Knowles, hopped into his personal Defender and set off to rescue the stranded transporter.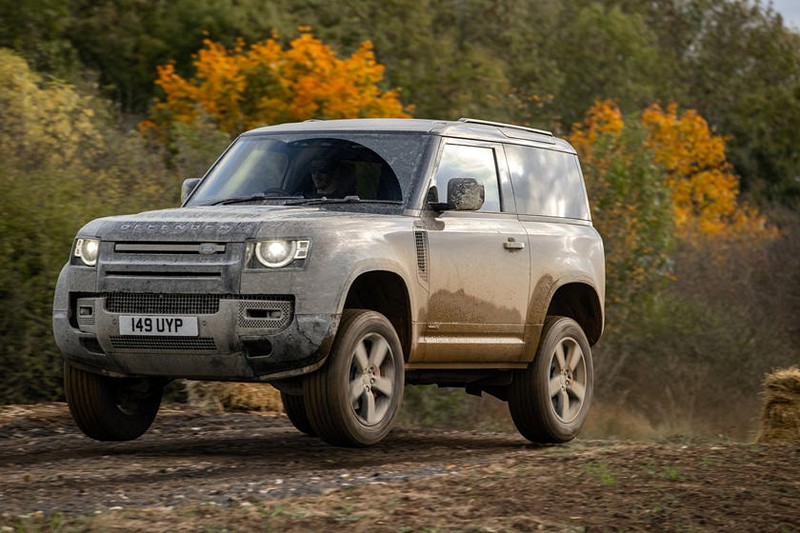 Combined with the seven loaded SUVs, the transporter weighed 44 tons, but this proved to be no problem for the rugged Defender. After hooking the transporter to the SUV with a tow rope, the Defender initially struggles to move the massive transporter. But after around a minute of persistence, the off-roader successfully tows the transporter out of trouble and pulls it safely to its destination.
Incredibly, this meant the Defender was able to tow 19 times its own weight.
If you need proof the new Defender is Land Rover's strongest and most capable off-roader yet, here it is. The Defender used in the video was a 110 model, which is powered by either a 2.0-liter turbocharged four-cylinder generating 296 hp and 295 lb-ft or a 3.0-liter six-cylinder turbo with mild-hybrid technology producing 395 hp and 406 lb-ft of torque. A more affordable Defender 90 will also go on sale this spring.
With videos like this demonstrating the Defender's tremendous capability, it's no surprise the new off-roader has already outsold the old model in America.
Article Credit: Martin Bigg
Photo Credits: Swansway Group/Youtube
Full Article: https://carbuzz.com/news/watch-a-land-rover-defender-tow-a-44-ton-truck-out-of-trouble