JUST HOW CAPABLE IS THE NEW LAND ROVER DEFENDER OFF-ROAD?
"You're a f***ing legend, mate!"
Well, that wasn't the reaction I was expecting. Rocking up to a 4×4 pay and play event in a brand new £75k Defender with very little experience and a prawn sandwich sat atop the optional front row centre jump seat, I was sure I'd be hanged, drawn and quartered from pneumatic winches within five minutes. But the reception was positive at Slindon Off-Road Park in Arundel, West Sussex, where I met up with the Office Mudplugger, Simon Bond, and his cabal of mucky Land Rover loving mates.
"How does this work then?"
Simon's response was a lot looser than I was expecting.
"Errr, you pay £35 at the gate, drive where you want, do what you want and generally just try and get stuck. If you do, we'll pull you out. If you roll over, we've got bigger problems."
Even with the £3,374 Explorer pack that brings a snorkel (it's actually a raised intake, as the 4WD enthusiasts felt necessary to correct me), silly window-mounted lunch box, roof rack, mud guards, plus extended side protection, I felt out of my depth as some proper specialist machinery had come out to play.
In the claggy car park fanned out around a café-cum-caravan sat jacked-up Jimnys, just-send-it-scrapyard-specials, incredibly senior four-wheel-drive, four-wheel-steer buggies with more diffs and winches than you'd ever need, a monster truck fiesta, and many, many more ratty Defenders then our spangly new one… on road tyres. This caused a few raised eyebrows.
The first thing to do was get it muddy; just to try and look the part but also to hide our nouveau shame. Following the conga line of old Defenders, Discos and a rogue Pajero, it was straight to the mudbaths.
Now, the new Defender is a very clever thing. It's also the first Land Rover to feature a Wade Sensing program as standard. When it knows it's going to get its feet wet, it'll automatically soften the throttle response, set the heating and ventilation to recirculate cabin air, lock the driveline and adjust the ride height to its off-road setting, while activating the Wade Sensing screen on the infotainment system.
Where the others were getting out and prodding the water with an old umbrella, I could sit comfortably and observe the depth of water live. And with a maximum wading depth of 35.4 inches (900mm), you'll probably end up chickening out before the car starts drowning.
With the Defender coming out of the water looking like it'd belly-flopped into a plate of chocolate Angel Delight, it then did something I didn't know it could do. Being a clever sausage, when it knows it's got a bit wet, it'll exit the water and drag the brakes momentarily to clean and dry the discs so you don't lose any performance why back on dry land. Or leave a car wash. Amazing.
I quickly learned these off-road arrive and drives are amazing. Unlike track days where there are marshals, rules and strict codes of procedure to follow, these are very liberal with the only apparent rule being: 'Don't Be A D*ck'. With a postcode of space to play on and every obstacle you can imagine, there are limitless options to potentially destroy your car. But the new Defender just shrugged the danger off and made most of the obstacles remarkably easy.
Where others were wrestling with stubby knobs and claggy switches to lock the centre or rear differentials manually using the high-to-low range gear selector, I just – well – sat there and let the car work it out while I worried if it was too wide to get down the lanes. Which it very nearly was being 1,996 mm across.
But where the new Defender has got fatter, it's also got cleverer. LR's second-generation of Terrain Response has really been swatting up on its grip as it knew exactly what to do at all times, recognising the driving surface then configuring the 90 appropriately with no input from the idiot behind the wheel whatsoever. You can literally see it working problems out and juggling its electronic bag of tricks to get you out of tricky situations. Even on road tyres it would get through ruts and tracks where the old ones would just get stuck, spin their wheels until they smoke and then call for a tow rope. It would have been a beast on knobblies.
However, even though it's effortless and comfortable, this off-road dominance and capability does leave you feeling remarkably redundant and out of the action. Where the others had engagement from Irish dancing off and on brakes, accelerators and clutches, pulling levers and getting mucky, I was in a cocoon. The only way I could feel a bit involved was to prevent cross-axle slip using the Centre Slip Limited and Centre and Rear Slip Limited options on the touchscreen. But prodding touchscreens and changing settings isn't very rewarding.
After the initial shock of seeing a brand new Defender coming to play with battered off-roaders, the hardcore was deeply impressed by our car; actively following it to stand on the side filming and sharing its abilities on social media. Which is the right kind of marketing. But it also proves that if you own a Defender, have £35 and aren't scared of risk, you can have a go too. And where Bondy's day ended in typical fashion (under his bonnet with a toolbox and on hold with the AA), I just drove back to London covered in warpaint. Where the Defender now looks better than ever.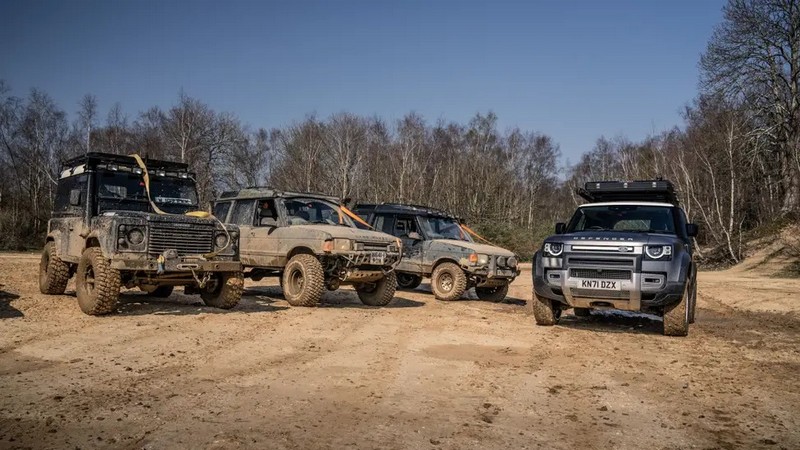 Article Credit: Rowan Horncastle
Full Articles: https://www.topgear.com/long-term-car-reviews/land-rover/defender/30-d250-x-dynamic-hse-90-3dr-auto/report-3